2,200 - 5,500 lb. Capacity Hand Pallet Jack
Model: 2,200-5,500 lb.
The Cat lift truck hand pallet truck has been engineered to provide long-lasting strength and versatility. Featuring lift capacities from 2,200 to 5,500 lbs., the Cat pallet truck series features a durable and ergonomic design that's easy to use and operate.
VISIT OUR LIFT TRUCK SOLUTIONS STORE
Hand pallet trucks direct from the brand you know and trust.
Three Options
–
We offer three different dimensions and capacity options to best fit your warehouse and material handling needs.

Free Shipping
– No minimum order quantities, no rules and no special exceptions.
Shop Online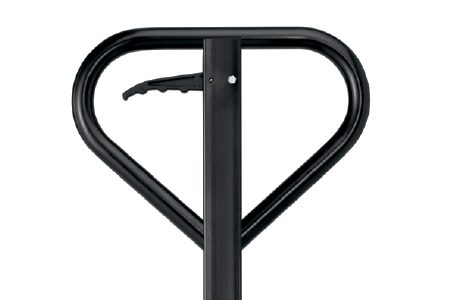 Ergonomics
Diamond-Shaped Handle – Easy-to-use and designed to reduce operator fatigue and improve productivity.

Hydraulic Lock / Release Lever – Provides maximum operational control through the hand-contoured surface.
Fork Tip Entry Wheels – Allows for easy insertion of the pallet jack into pallet fork pockets for improved maneuvering and increased productivity.
Productivity
Load Wheel Pushrods – These pushrods are adjustable, helping pallet jack operators to achieve the perfect balancing of fork height.

Low-Rolling Resistance Tire – The molded polyurethane tire contributes to smooth performance and load handling.

Low Lowered Fork Height – The lowered fork height of 2.9 inches allows for easy pallet entry and exit.
Awareness
Handle Spring – Returns to upright position when released for improved security.

Hydraulic Pump – Features controlled lowering rate valve to reduce risk of product damage during operation.
Total Cost Of Ownership
Heavy-Duty Cast Steel Load Wheel – Supports fully-rated loads for better stability.

Temperature-Controlled Robotic Welds – Help to maintain material strength for greater product durability.

Baked-On Powder-Coat Paint – These hand lift truck models are finished with a baked-on powder- coat paint, providing a more durable coating to help protect your equipment investment.

One-Piece Cast Iron Pump – With a chrome-plated piston rod, it ensures long pump seal life, requiring less maintenance over the long run.
| Model | Basic Capacity (lbs) | Maximum Fork Height | Length To Fork Face | Chassis Width (in) | Chassis Height (in) | Gross Weight (lbs) |
| --- | --- | --- | --- | --- | --- | --- |
| A500002036 | 5,500 | 7.67 | | | | |
| A500002043 | 5,500 | 7.67 | | | | |
| A500002048 | 5,500 | 7.67 | | | | |
| A500002050 | 3,300 | 7.67 | | | | |
| A500002049 | 5,500 | 7.67 | | | | |
| A500002736 | 5,500 | 7.67 | | | | |
| A500002748 | 5,500 | 7.67 | | | | |
| A5Q0002748 | 5,500 | 7.67 | | | | |
| A5B0002748 | 5,500 | 7.67 | | | | |
| A500002749 | 5,500 | 7.67 | | | | |
| A5G0002748 | 5,500 | 7.67 | | | | |
| A5G0002749 | 5,500 | 7.67 | | | | |
| A500002750 | 3,300 | 7.67 | | | | |
| A000055884 | 2,200 | 7.67 | | | | |
| A500002745 | 4,409 | 7.67 | | | | |
| A500003348 | 3,300 | 7.67 | | | | |