3,000 lb. Capacity Electric High-Level Order Picker
Model: EKS 314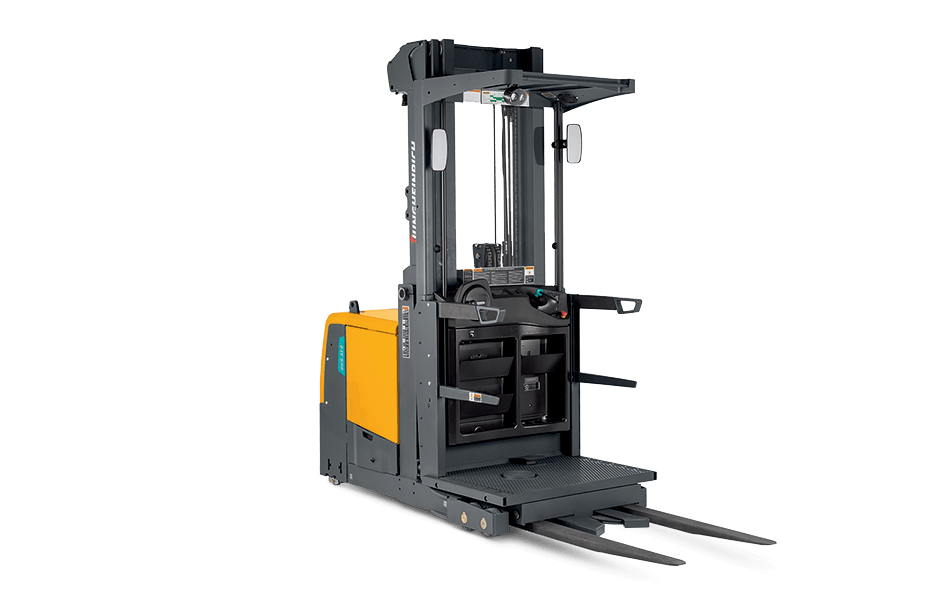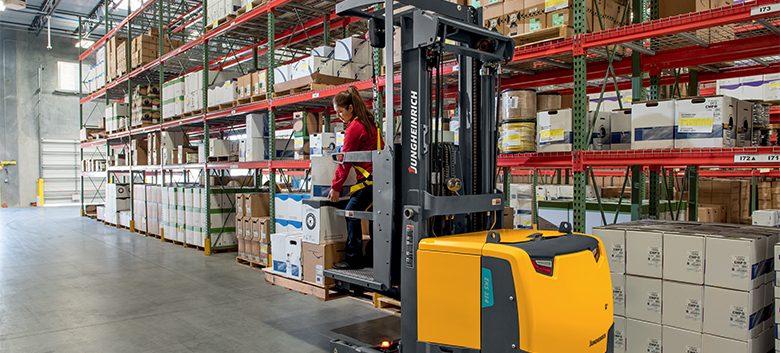 Offering high throughput performance, the EKS 314 high-level order picker sets new standards in ergonomic design, efficiency and performance. With a load capacity of up to 3,000 lbs. and order picking heights up to 366", this truck is specifically designed for high pick rate and high density storage applications.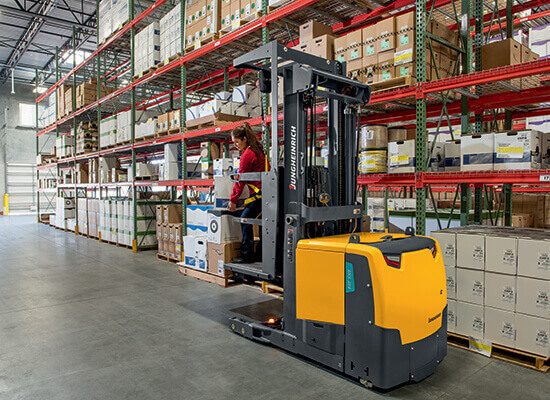 Run 2 Shifts On 1 Charge.GUARANTEED.
Jungheinrich® is now offering a game-changing guarantee on the 3,000 lb. high-level order picker. Your lift truck is guaranteed to run two full shifts without stopping to charge the battery – for five years. If your order picker doesn't perform to this standard, we'll cover the cost of a new battery to ensure it does.

Learn More
Watch Product Video
Curve Control. Automatic pallet grip. 1,000-hour service intervals. See why more and more distribution centers are choosing the Jungheinrich EKS 314 high-level order picker.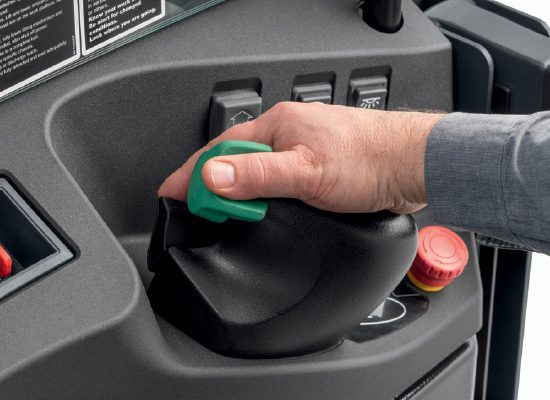 Productivity
The order picker's multifunction control handle incorporates a solid base for a secure grip, providing precise control of travel and lifting functions.


Designed to automatically lock the pallet for a secure grip, the Automatic Pallet Grip feature provides optimum control of the load.

High lifting and performance speeds offer maximum productivity –moving up to 7.5 miles per hour in drive direction and up to 76 feet per minute when lifting.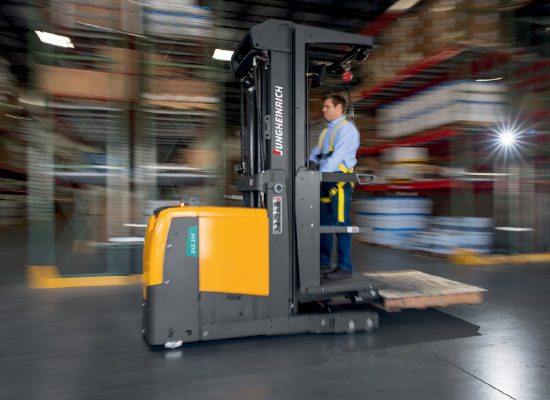 Awareness
Features Jungheinrich® Curve Control, which automatically reduces the high-level order picker's travel speed while turning corners for added security.

The advanced platform visibility option gives operators the added benefit of seeing below the platform when working in a raised position.

Equipped with a full-color interactive display panel, which shows key performance indicators and truck status information for improved awareness.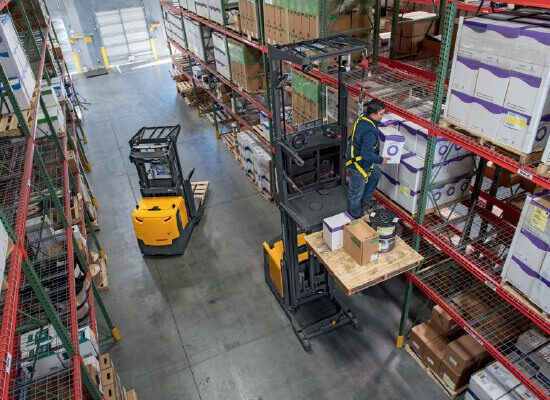 Energy Efficiency
Industry-leading run times – 16 hours on one battery charge in most applications – allow these high-level order picker forklifts to work longer without stopping to recharge for greater efficiency.

3-phase AC technology delivers strong acceleration and high lifting and lowering speeds for greater productivity.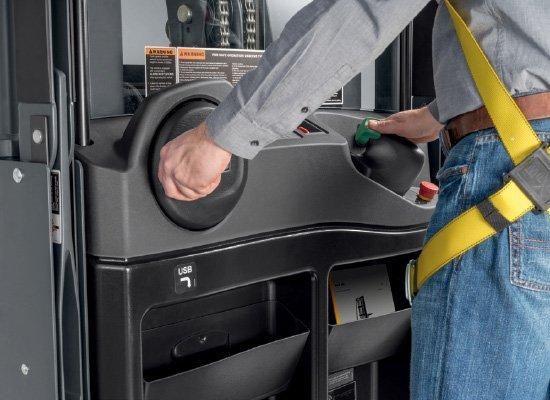 Ergonomics
Fold-up monitored side gates provide easy access to pick and pull orders – gates nest up and out of the way for added comfort and space.

The ultra-comfort cushioned floor provides enhanced operator stability.

The intuitive control handle is built on a solid base for a secure grip when moving loads.

Electric power steering allows the operator to maneuver the truck with very little effort for greater comfort, especially throughout the shift.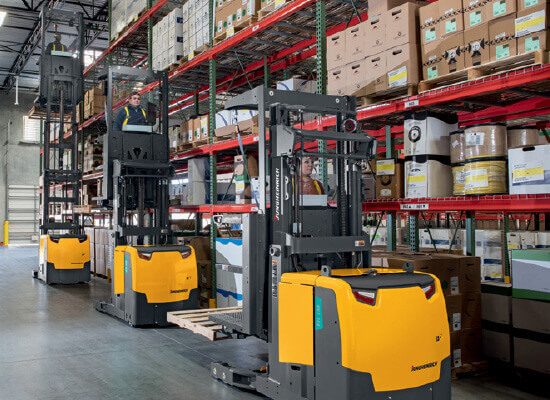 Total Cost of Ownership
The order picker features sealed components for added protection in dusty or moist environments, minimizing downtime and maintenance costs.

The forklift's AC system features precise speed control, quickly adapts to varying conditions, and varies output for continued, consistent operation.

Excellent cost effectiveness thanks to the high rate of order picking and low energy consumption.

Industry-leading 1,000 hour service intervals help minimize maintenance costs and maximize uptime.
Watch Customer Review
See how Dixon Valve & Coupling obtained 10-15% more picks per shift with the Jungheinrich EKS high-level order picker.
Lithium-ion Package Advantages
Fast charging with no need for battery exchanges
Maintenance-free with no odors from gases or acidification
Longer service life compared to lead-acid batteries
Charging can be interrupted at anytime
5-year battery warranty included
Exclusive 5-Year Powertrain Warranty
Expect more from Jungheinrich, the experts in warehouse products, like a 5-year / 10,000 hour powertrain warranty that outperforms others. Available on all Jungheinrich Class I and II products sold across the United States, Canada and Mexico, the coverage includes parts and labor on all forklift components. Rest easier knowing that we're here to help keep your fleet running – shift after shift – when you need it most.
| Model | Basic Capacity (lbs) | Maximum Fork Height | Length To Fork Face | Chassis Width (in) | Chassis Height (in) | Gross Weight (lbs) |
| --- | --- | --- | --- | --- | --- | --- |
| EKS 314 | 3,000 | 366 | 78 | 40 | 92 | 8,030 |