4,500 / 6,000 lb. Capacity Electric Walkie Pallet Trucks
Model: EJE 120/225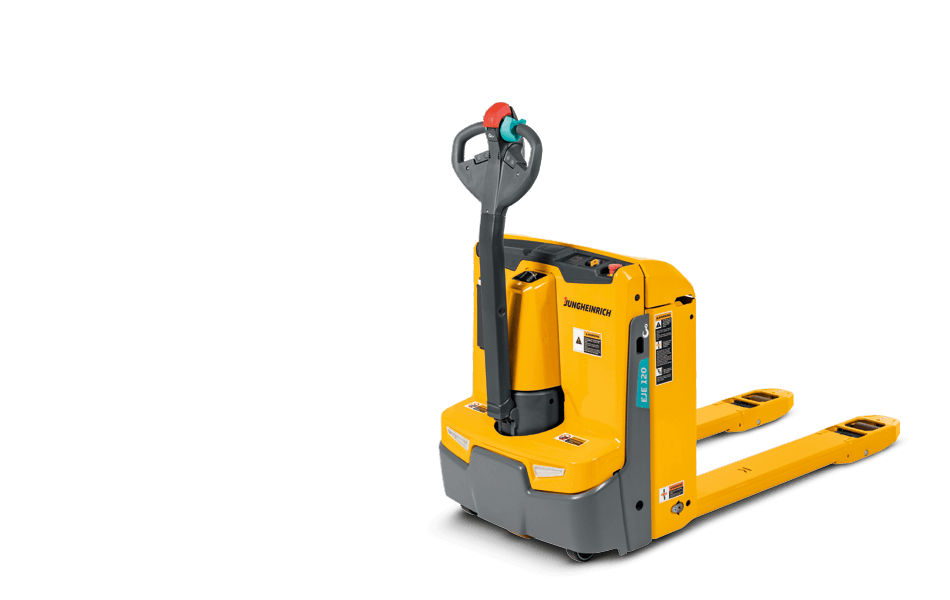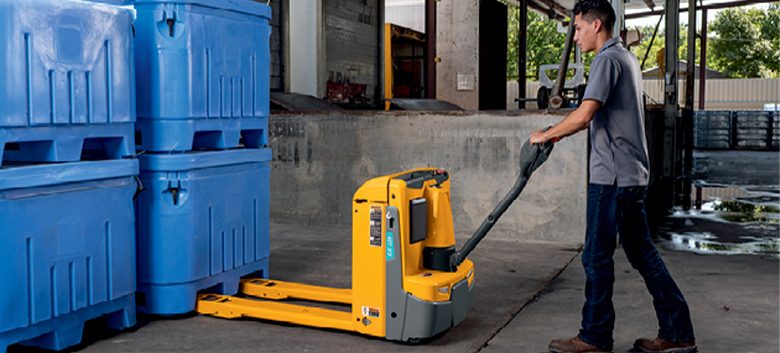 Designed for loading and unloading trailers and transporting loads over short distances, the EJE 120 and 225 walkie pallet trucks are ideal for high-volume distribution, ramp loading and transporting of heavy loads. Both the 4,500 and 6,000 lb. capacity walkies feature stepless speed control and roll-back protection on ramps.

A lift in this model family is available now! Contact your nearest Towlift location for details!
Watch Product Video
Watch this short video to see how Jungheinrich is helping advance customer operations with the EJE 120 walkie series' unique technology and features.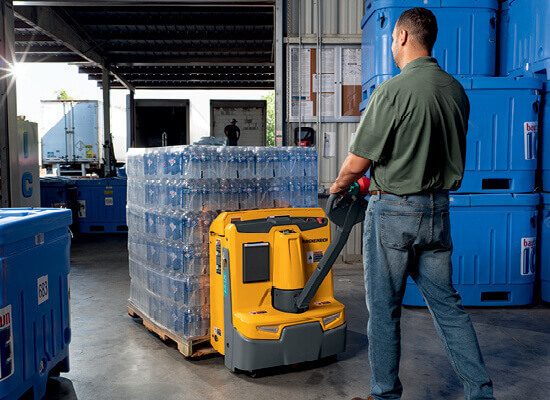 Productivity
The Jungheinrich® 3-phase AC motor and high-output AC controller allow these walkie pallet trucks to deliver quick acceleration and smooth directional changes.

Superior stability of both truck and load with optional ProTracLink stability casters.

Easy operation with the handle in the vertical position using the Crawl Speed button simplifies movement inside trailers and in confined spaces.

Simple pallet entry options supported by beveled fork tips to a 3º angle.

Optional cross-pallet entry supported by standard fork marks.

Fork tip wells for better visual while entering pallets.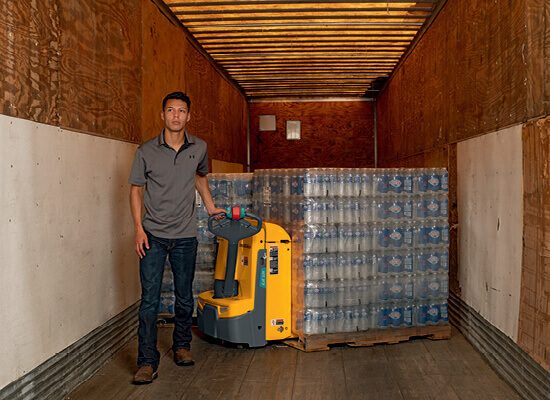 Awareness
"Smart" auto reverse button only operates when the truck is moving chassis first toward the operator.

Optional ProTracLink stability casters help protect fragile loads from tipping during tight turns.

Ramp rollback protection protects against unintended movements while operating on grades.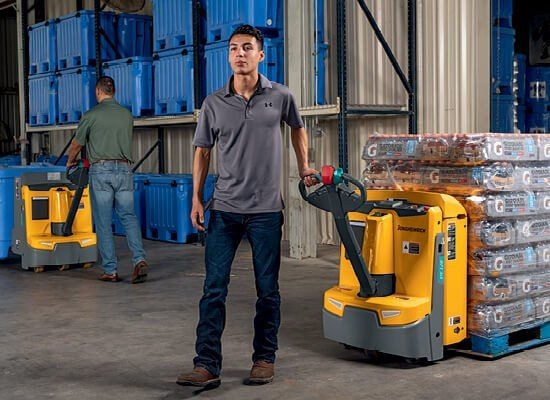 Ergonomics
Unique lift/lower rocker switches allow operation with the handle in virtually any position.

Low-mounted tiller arm provides easier steer effort and keeps the operator a secure distance from the chassis.

"Smart" auto reverse button boosts operator confidence by protecting them against unintended contact.

Required steering forces reduced by 15.3%.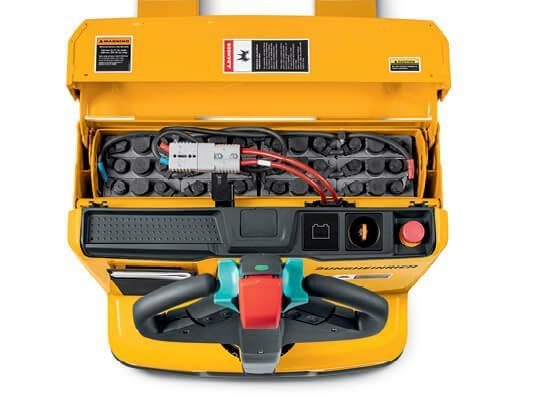 Total Cost Of Ownership
These electric walkie pallet trucks have AC motors with no wearable components, like carbon brushes or contactors, to replace over time.

Sealed electrical components mean that dust and moisture cannot impact the truck's performance.

Rolled steel provides flexibility and durability to withstand tough applications over time.

Automatic lift-cutout helps avoid burnout by cutting off the hydraulic motor when the forks reach max height.
Watch Customer Review
Look inside GAMA Foods and see how they experienced a 20% increase in productivity by adding the Jungheinrich EJE 120 walkie pallet truck to their warehouse.
| Model | Basic Capacity (lbs) | Maximum Fork Height | Length To Fork Face | Chassis Width (in) | Chassis Height (in) | Gross Weight (lbs) |
| --- | --- | --- | --- | --- | --- | --- |
| EJE 120 (short compartment) | 4,500 | 8 | 19.1 | 28.3 | 29.5/48.7 | 926 |
| EJE 120 (medium compartment) | 4,500 | 8 | 22.8 | 28.7 | 29.5/48.7 | 941 |
| EJE 225 (medium compartment) | 6,000 | 8 | 24 | 28.7 | 29.5/48.7 | 1,193 |