6,000 & 8,000 lb. Capacity Electric Center Control Rider Pallet Trucks
Model: ECE M27-M36
From the spacious operator compartment, to excellent travel speeds and the 5-point suspension frame design, you can count on the ECE M27-ECE M36 to meet the extreme demands of your operations.
Productivity
- Equipped with 3-phase AC technology, our center control riders are designed to provide long run times to increase the productivity of your operations.
- Drive wheel and swivel caster wheels are independent from the rear load frame.This design allows for smooth movement of the chassis, increased load stability and effortless control for increased throughput.
- The spacious and ergonomic semi-enclosed operator compartment not only helps to keep the operator fresh throughout the shift, but also allows for efficient "walk-through" for faster order picking.
- Low utilization of energy consumption per charge cycle allows for longer run times and greater throughput.
Maneuverability
- A short chassis design allows for great turning radius and excellent maneuverability performance.
- With 190-degree steering arc capabilities, operators of varying skill levels can efficiently and precisely maneuver these trucks, especially in more restrictive or confined spaces.
Intuitive
- The large steer head requires minimal steering effort and makes it easy for operators to control the truck.
- Intuitive fingertip controls and soft-touch switch design makes operation extraordinarily comfortable.
- Rotary thumb travel speed controls that can be operated from either side provide operator flexibility.
- The ergonomic, intuitive and removable soft-grip grab bar helps to provide comfortable grip during operation for increased operator support.
Awareness
- Excellent visibility in all directions.
- Intuitive standard Multifunction Digital Indicator (MDI) keeps the operator informed of truck status at all times with a quick glance.
- Optional multi-functional LCD display provides even greater operator awareness and customized performance settings.
- Optional travel alarm helps to increase pedestrian awareness of the truck's presence.
Total Cost of Ownership
- Brushless AC drive motors with no commutators and no contactors utilize fewer parts, requiring less maintenance.
- IP65 enclosed frame design helps to keep debris and foreign particles from entering major components, better protecting your investment.
- Regenerative braking system leads to longer brake life and reduced build-up within the drive motor.
- Tried and tested, proven components ensure low maintenance costs and long-lasting reliability.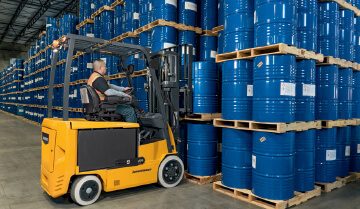 Product Spec Sheet- English
ECE M27-M36 Center Control Rider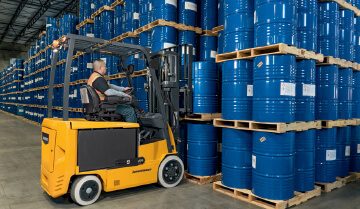 Product Spec Sheet- Spanish
ECE M27-M36 Center Control Rider
| Model | Basic Capacity (lbs) | Maximum Fork Height | Length To Fork Face | Chassis Width (in) | Chassis Height (in) | Gross Weight (lbs) |
| --- | --- | --- | --- | --- | --- | --- |
| ECE M27 | 6,000 | 9.25 | 56.9 | 35.1 | 55.7 | 1,895 |
| ECE M36 | 8,000 | 9.25 | 56.9 | 35.1 | 55.7 | 1,895 |