3,000 - 4,000 LB. CAPACITY ELECTRIC STAND-UP COUNTERBALANCED FORKLIFT
Model: FBCS14N-FBCS18N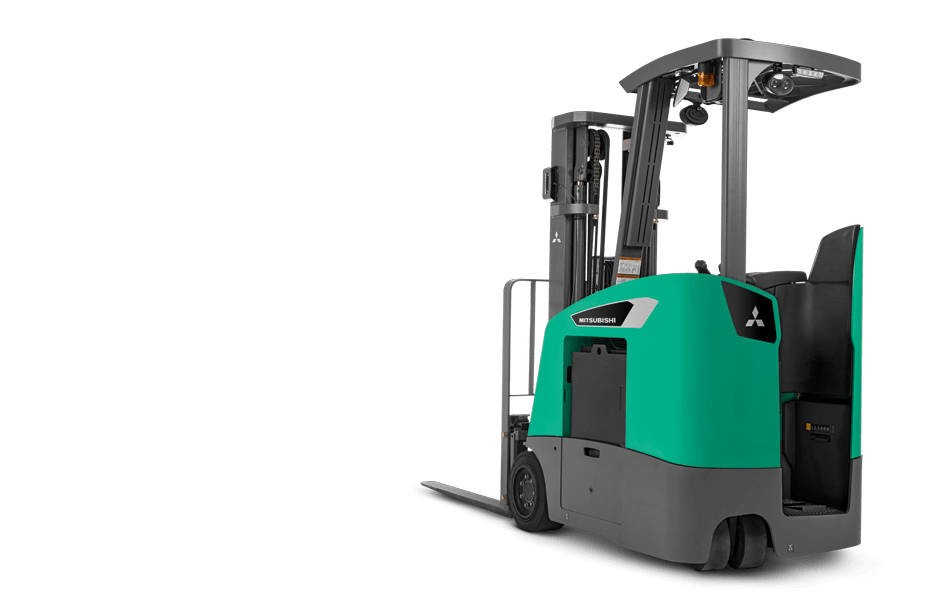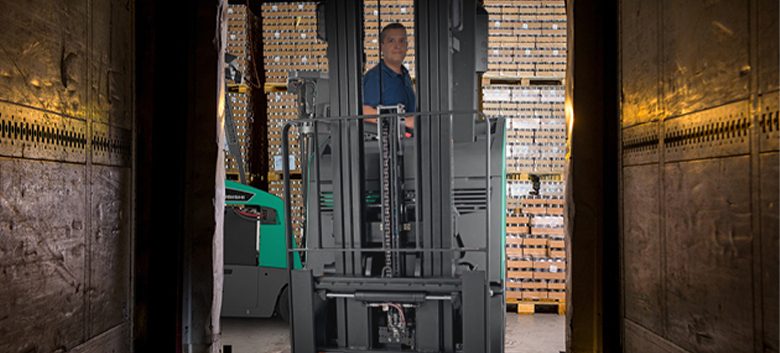 The FBCS14N-FBCS18N series offers a stand-up design and is ideal for confined warehouse spaces.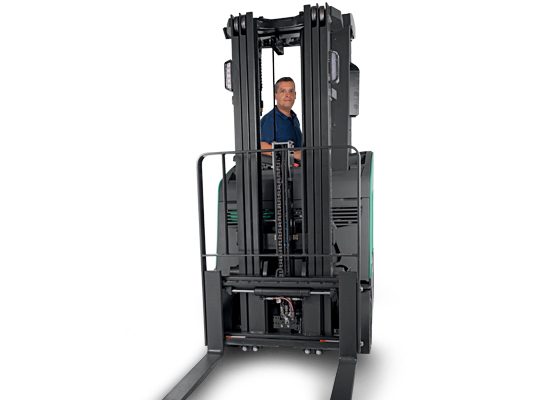 Productivity
Increased Power, Acceleration – Three-phase AC motor and high-output AC controller deliver greater power and quick acceleration.
Multi-Functional Control Handle – Allows operator to work three functions simultaneously, increasing productivity.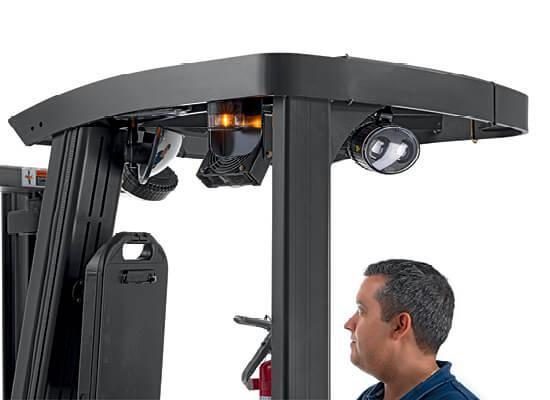 Awareness
Dual Operator Presence Pedals – Help reduce risk by requiring the standing forklift operator to be in the normal operating position to activate either travel and/or hydraulic functions.
Performance Software – Can be adjusted to meet your specific drive and hydraulic performance needs or limits.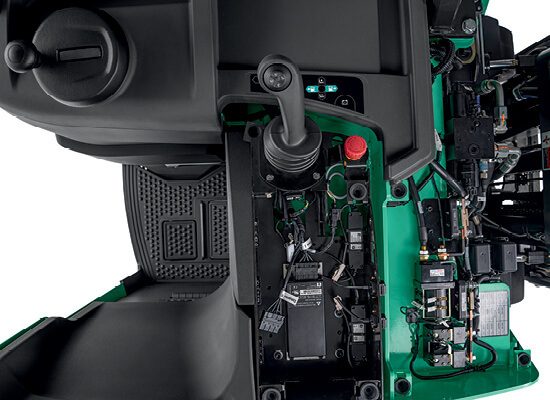 Energy Efficiency
Longer Run Times – Regenerative braking is activated when the stand-up forklift decelerates, changes directions or when the service brakes are applied and helps return energy to the battery, extending run times and service brake life.
Highly-Efficient AC Motor – Consumes less energy, leading to extended battery life and increased run times.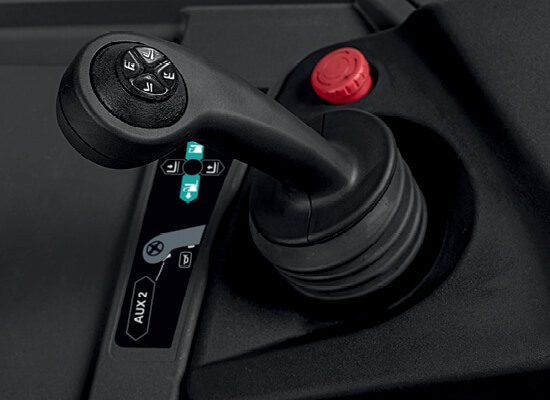 Ergonomics
Electric Power Steering – Allows the operator to maneuver the truck with very little effort.
Intuitive Multi-Functional Control Handle – State-of-the-art feature. This handle allows the operator to work three functions simultaneously.
Fatigue-Reducing Features – Built into the forklift's operator compartment, including padding for knees, back and armrest, padded floor mat and low step height for easy entry and exit.
Operator Comfort – Soft padded floor mat, footwell and padding for knees increase forklift operator comfort to encourage higher levels of productivity.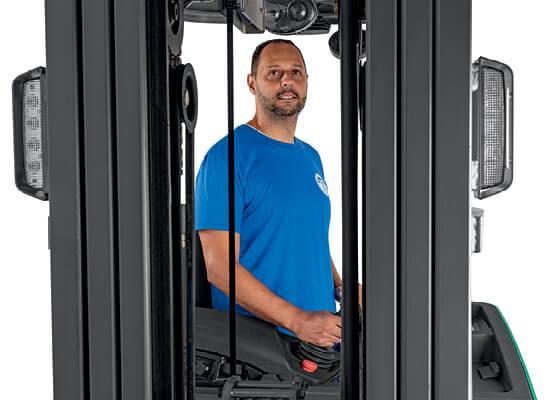 Total Cost Of Ownership
Zero Wearable Components – This advanced AC technology has no wearable components to replace, saving you time and maintenance costs.

Easy-To-Service – Service technicians can easily and quickly access all important truck functions and parameters with our industry-leading service tool. This leads to faster repairs by allowing technicians easy access to truck performance and diagnostics.
Durable Hall Effect Sensors – Designed to outlast the life of the truck, reducing servicing requirements and helping you enjoy a low cost of ownership.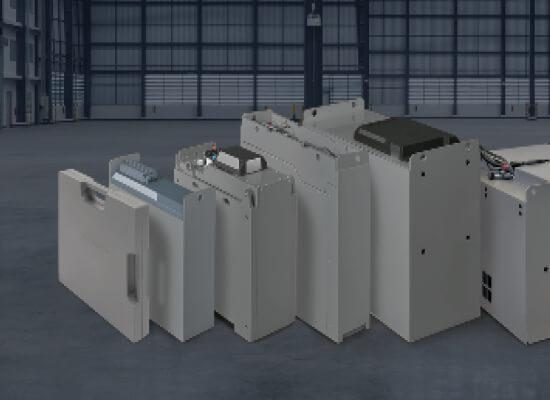 Lithium-Ion Battery Solutions
Lower Lifetime Cost
Lithium-ion batteries feature a lower cost of ownership than lead-acid batteries by eliminating excessive maintenance costs
Increase Productivity
Lithium-ion batteries can be charged to full capacity in a fraction of the time it takes to charge a lead-acid battery. Opportunity charging that can be interrupted at any time, prevents downtimes and ensures 24/7 truck usage.
Increase efficiency
The battery, vehicle and charger are all synchronized which allows for fast and efficient energy usage and charging capability.
| Model | Basic Capacity (lbs) | Maximum Fork Height | Length To Fork Face | Chassis Width (in) | Chassis Height (in) | Gross Weight (lbs) |
| --- | --- | --- | --- | --- | --- | --- |
| FBCS14N | 3,000 | 276 | 63 | 41 | 88 | 8,424 |
| FBCS16N | 3,500 | 276 | 65 | 41 | 88 | 8,424 |
| FBCS18N | 4,000 | 276 | 70 | 41 | 88 | 9,244 |