3,000 - 4,500 lb. Capacity Single & Deep Electric Pantograph Reach Trucks
Model: ESR15N2-23N2/EDR18N2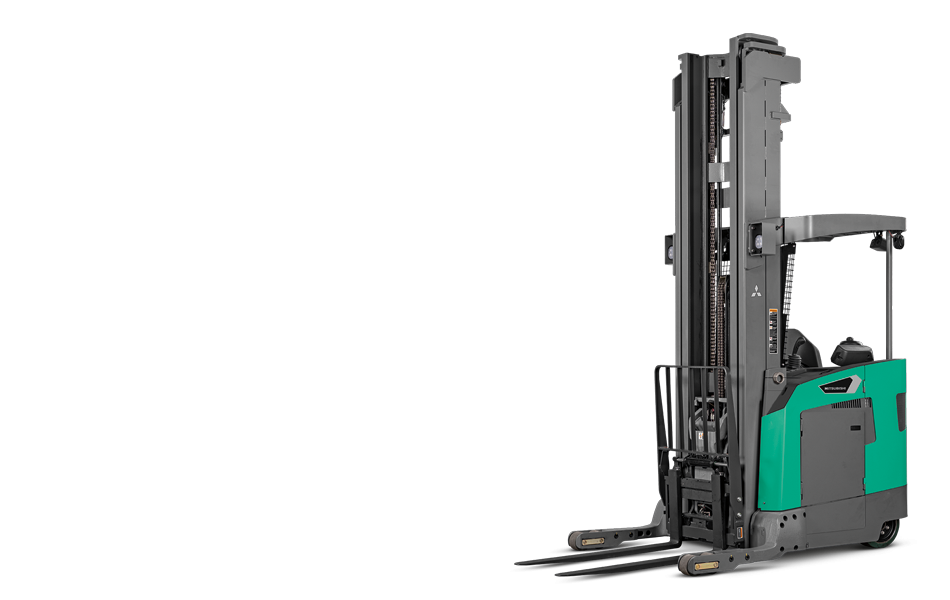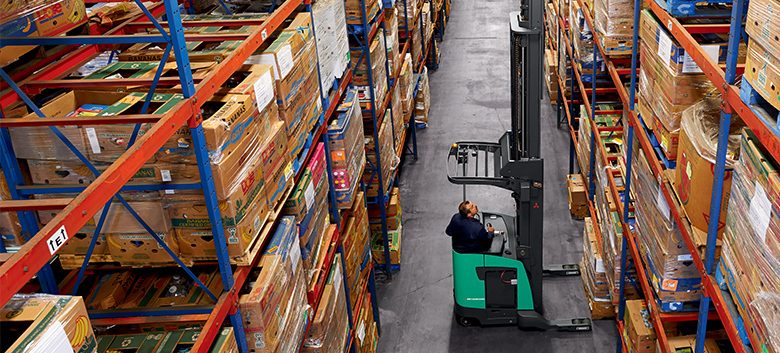 The 3,000-4,500 lb. capacity ESR and EDR series of reach trucks deliver superior performance – at an exceptional value. Featuring advanced AC technology, this series is designed to reach new heights quickly and efficiently for greater productivity, shift after shift.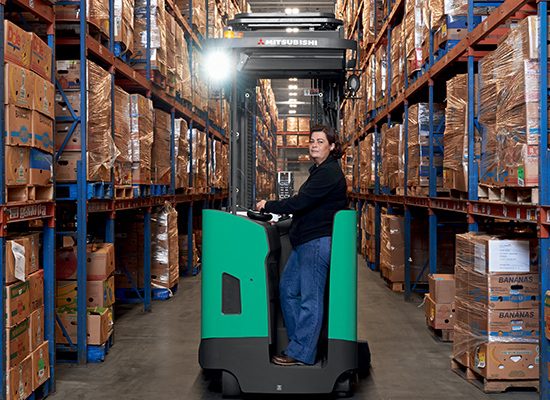 Productivity
Fast Lifting Speeds – One of the fastest in the industry, the electric reach truck's hydraulic system reaches a lifting speed of up to 160 feet per minute with fork heights reaching up to 450 inches.
Customizable Performance – Three pre-programmed drive and hydraulic settings are available to customize the pantograph reach truck for a particular application or operator skill level. All information is immediately displayed, contributing to the operator's overall awareness – leading to a more productive work environment.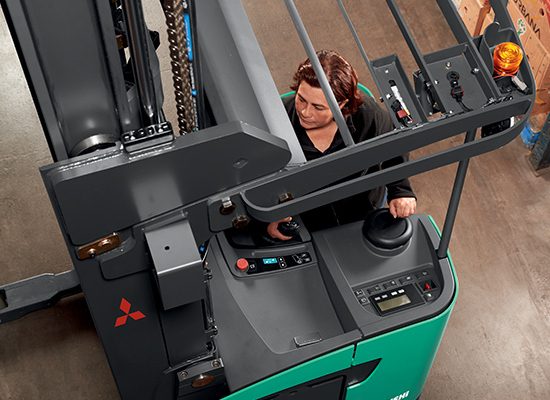 Awareness
Dual Floorboard Pedal System – Helps to reduce risk by requiring the reach truck operator to be in the normal operating position to activate drive or hydraulic functions.
Slower Travel Speeds – Kicks in when forks are raised above the free-lift stage.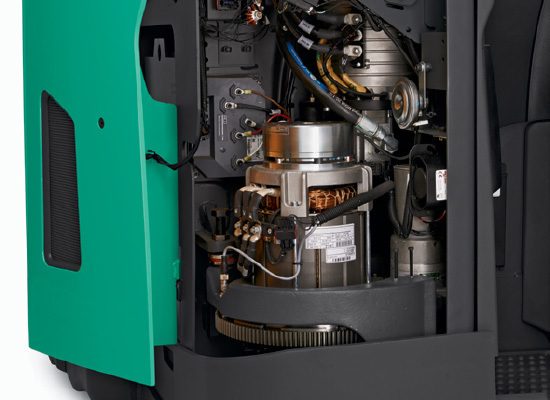 Energy Efficiency
Longer Run Times – The ESR series is built for efficiency – running up to two shifts on one battery charge in most applications – allowing your reach truck operators to get the most out of their workday.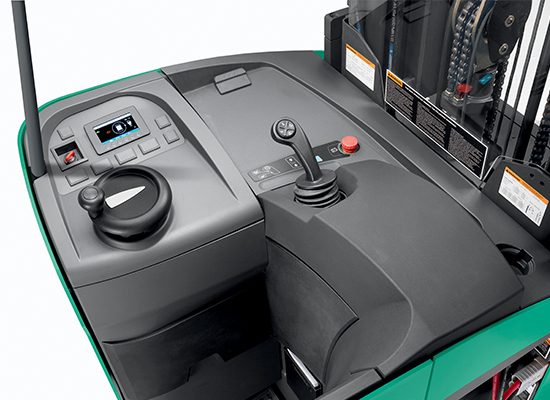 Ergonomics
Intuitive Multi-Function Control Handle – The handle of the pantograph reach truck offers simultaneously control of drive, lift, lower and auxiliary hydraulic functions for better.

Ergonomic Design – Anti-fatigue floor mat and generous padding for knees, hips, back and armrest.

Low-Effort Electric Power Steering – For precise control with minimal effort.

Easy-To-Read Display – The forklift display panel keeps the operator informed of key performance indicators, such as battery charge level, hour meter and performance modes.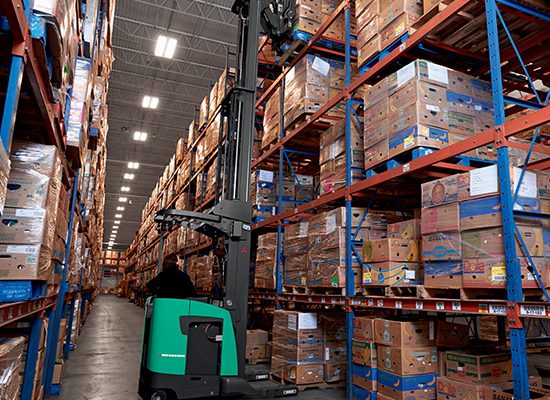 Total Cost Of Ownership
Less Maintenance – Advanced three-phase AC motors require no carbon brushes, eliminating the cost of replacement parts and reducing the overall need for service or routine maintenance.

Enhanced Visibility – The ESR pantograph reach truck series features an enhanced-visibility, heavy-duty mast with durable rollers and mast rails designed to meet your most demanding applications. Combined with hydraulic cushioning and mast staging functions, operators can precisely and securely position loads at all lift heights.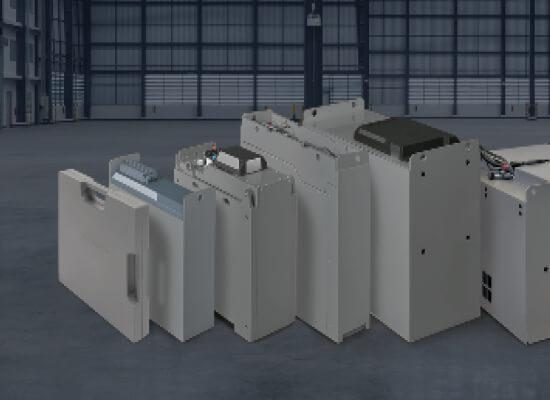 Lithium-Ion Battery Solutions
Lower Lifetime Cost
Lithium-ion batteries feature a lower cost of ownership than lead-acid batteries by eliminating excessive maintenance costs
Increase Productivity
Lithium-ion batteries can be charged to full capacity in a fraction of the time it takes to charge a lead-acid battery. Opportunity charging that can be interrupted at any time, prevents downtimes and ensures 24/7 truck usage.
Increase efficiency
The battery, vehicle and charger are all synchronized which allows for fast and efficient energy usage and charging capability.
| Model | Basic Capacity (lbs) | Maximum Fork Height | Length To Fork Face | Chassis Width (in) | Chassis Height (in) | Gross Weight (lbs) |
| --- | --- | --- | --- | --- | --- | --- |
| ESR15N2 | 3,000 | 242 | 52.0 | 41.5 | 95 | 8,650 |
| ESR18N2 | 3,500 | 242 | 55.0 | 41.5 | 95 | 8,650 |
| ESR20N2 | 4,000 | 242 | 55.0 | 41.5 | 95 | 9,050 |
| ESR23N2 | 4,500 | 242 | 55.0 | 41.5 | 95 | 9,050 |
| EDR18N2 | 3,500 | 242 | 62.3 | 41.5 | 95 | 9,400 |