3,000 - 6,500 lb. Capacity Internal Combustion Cushion Tire Forklifts
Model: FGC15N-FGC33N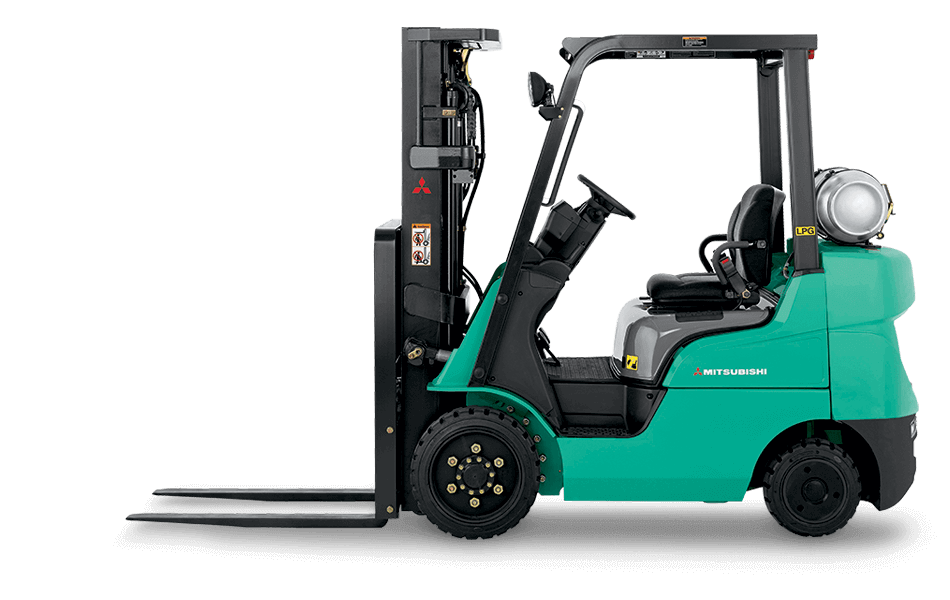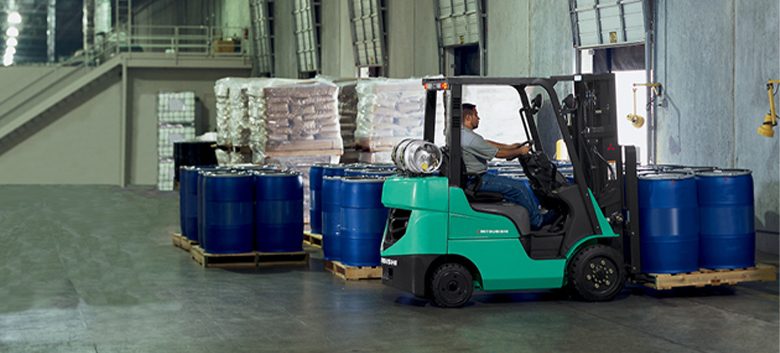 The 3,000 - 6,500 lb. capacity IC cushion tire forklift series plays a central role in material handling applications that primarily operate indoors and on smooth surfaces. Built to accommodate a broad array of industries, these forklifts move diverse loads, including bulky materials ranging from lumber to palletized finished goods.
Watch Product Video
The Mitsubishi Forklift Trucks FGC25N is designed to perform shift after shift. See how this internal combustion forklift provides the comfort and convenience you can rely on.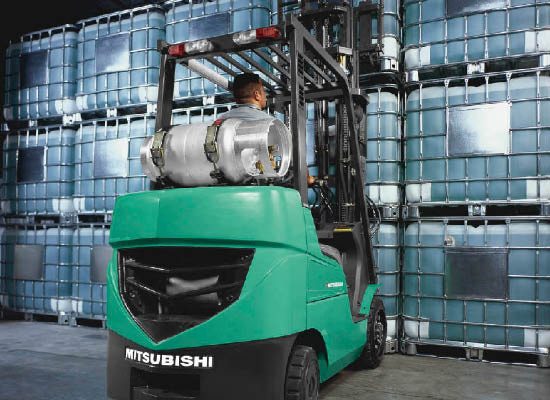 Productivity
High-Performance Engine – The GK21/GK25 LP and gas internal combustion engines have the power your tough applications need while also meeting the EPA's emission standards.


Premium Display Panel – This premium display is standard on all Mitsubishi forklift trucks, allowing your operators to easily monitor the health of your truck, including a mast interlock indicator, hour meter and transmission interlock indicator.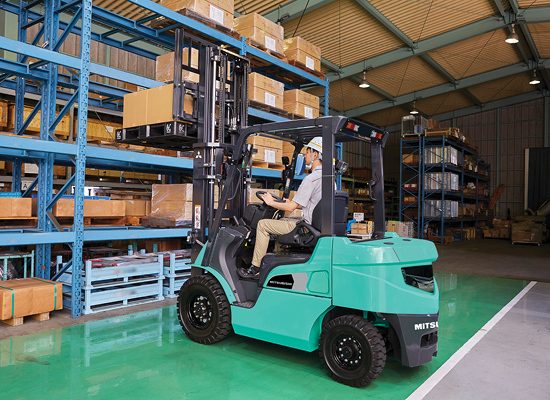 Comfort
Full Suspension Seat - Suspension seats are standard and provide additional ergonomic comfort during operation. The seat adjustments available ensure operability in the best position. An orange seatbelt also comes standard on this truck to allow easy visibility from a distance.
Fully Hydraulic Power Steering - can be operated with little force, optimal lever arrangement that can be operated in a natural position, spacious pedal floor, accelerator, brake, inching pedal (clutch pedal) that can be operated smoothly with optimal position and height etc., are designed throughout to help reduce fatigue and help ensure comfort in daily work.
Tilt Steer Column with Mechanical Quick Turn - The tilt steering column is designed for the operator to adjust the column to a position and lock it in place for customized optimum comfort.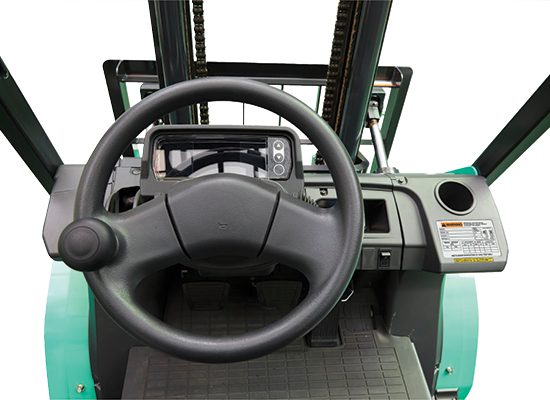 Operator Awareness
Integrated Presence System - The FG15PT-FG35PT / FD15PT-FD35PT series is built to help protect the operator and surrounding personnel. Each forklift comes standard with the Integrated Presence System (IPS), which is designed to disengage all powered travel and disengages all mast hydraulic functions when the operator leaves the normal operating position. A warning alarm will also sound and an indicator on the dash will appear if the operator leaves the compartment without applying the parking brake or forgets to fasten their seat belt.
Premium Color Display - This new color display provides important indicators and information to the operator. These are crucial in order to know how the truck is currently running and if there are any issues that need to be addressed. The central location of this display makes it easy for the operator to have visibility to these indicators at all times.
Starter Interlock – if the directional transmission is not in the neutral position, the engine cannot be started, reducing the risk of sudden starts.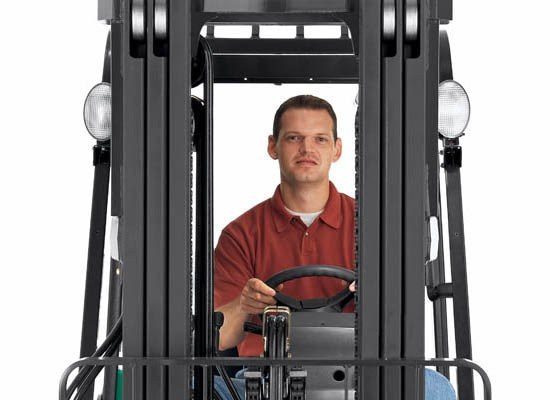 Awareness
The Integrated Presence System (IPS) – Ensures that the operator is properly seated when activating the electronic counterbalanced forklift's travel or hydraulic functions - reducing the likelihood of accidental activation.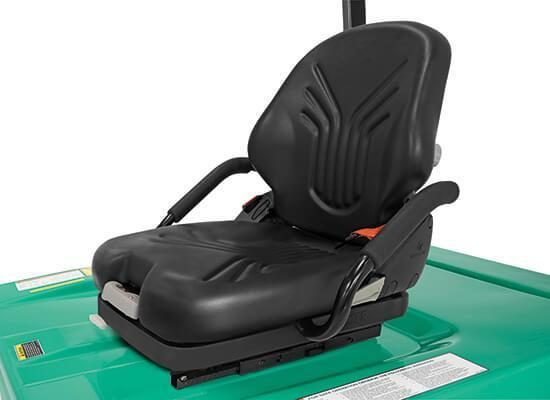 Operator Comfort
Three-Point Entry – Provides three solid points of contact when entering and exiting the forklift for added security. Features an elongated grab bar, low anti-slip entry step and steel hip restraint of the seat.

Hydrostatic Steering System – Steering is made easier and requires less effort from the operator because of the standard hydrostatic steering system of the truck.

Fingertip Controls In An Easy-To-Operate Adjustable Armrest (Optional) – Low-effort levers, precise operation and an infinitely adjustable armrest provide comfortable support with ease of use for operators throughout the workday.


Watch Customer Review
Rimports is a leading manufacturer and distributor of scented wickless candle products. See why they "couldn't function" without the Mitsubishi FGC25N cushion tire forklift.
| Model | Basic Capacity (lbs) | Maximum Fork Height | Length To Fork Face | Chassis Width (in) | Chassis Height (in) | Gross Weight (lbs) |
| --- | --- | --- | --- | --- | --- | --- |
| FGC15N | 3,000 | 221 | 82.3 | 38.2 | 80.9 | 6,070 |
| FGC18N | 3,500 | 221 | 83.5 | 38.2 | 80.9 | 6,450 |
| FGC20CN | 4,000 | 221 | 85.8 | 40.2 | 80.9 | 7,010 |
| FGC20N | 4,000 | 221 | 90.4 | 41.9 | 81.5 | 7,360 |
| FGC25N | 5,000 | 221 | 92.7 | 41.9 | 81.5 | 8,160 |
| FGC30N | 6,000 | 221 | 96.7 | 43.9 | 81.5 | 9,490 |
| FGC33N | 6,500 | 221 | 97.8 | 43.9 | 81.5 | 9,940 |