4,500 - 6,000 lb. Capacity Motorized Pallet Jacks
Model: PW23-PW30
The 4,500 lb. and 6,000 lb. capacity walkie series is ideal for indoor material handling applications where travel distances are short (less than 200 feet), work spaces are congested and floor loading and unloading is common. These electric and manual walkie pallet trucks offer some of the shortest head lengths in the industry, making it simple to pinwheel in the tightest of areas, like inside a trailer.
Productivity
Quick Acceleration, Smooth Directional Changes – Three-phase AC motor and high-output AC controller deliver quick acceleration and smooth directional changes.

Superior Stability – Optional stability casters can be added for increased stability of both the electric hand pallet truck and the load.

Crawl Speed Button – Providing added control, the crawl speed function allows the operator to pinwheel in tight spaces. The handle can also be used in the fully upright position for increased productivity when turning in tight spaces.

Beveled Fork Tips – 3 degree angle for simple pallet entry.
Awareness
"Smart" Auto Reverse Button – Only operates when the motorized pallet jack is moving chassis first toward the operator.
Optional Stability Casters – Help protect fragile loads from tipping during tight indoor turns.
Ramp Rollback Protection
– Protects against unintended movements while operating on grades.
Energy Efficiency
Advanced Regenerative Braking – Recovers energy while coasting, plugging and braking – feeding lost electric energy back into the battery for greater efficiency.
Highly Efficient AC Motor – Consumes less electricity, leading to extended battery life and increased run times.
Exclusive Short Battery Compartment
– Provides excellent energy efficiency with two options: 150 Ah industrial battery or 142 Ah maintenance-free battery.

Integrated Battery Charge – Add on the optional 30 amp integrated electric battery charger for maximum convenience.

Auto Shut-Off Function – Truck shuts down after 5 minutes of non-usage, helping to conserve energy.
Ergonomics
Easy To Operate – Unique lift/lower rocker switches allow pallet truck operation with the handle in virtually any position.
Less Steer Effort
– Low-mounted tiller arm makes it easier to steer, while keeping the operator a secure distance from the chassis.

"Smart" Auto Reverse Button
– Boosts pallet truck operator confidence by protecting them against unintended contact.
Total Cost Of Ownership
No Wearable Components – AC motors have no wearable components, like carbon brushes or contactors, to replace over time.
Sealed Electrical Components – Mean that dust and moisture cannot impact the truck's performance.
Rolled Steel – Provides flexibility and durability to withstand tough applications over time.
Automatic Lift Cutout – Helps avoid burnout by cutting off the hydraulic motor when the forks reach max height.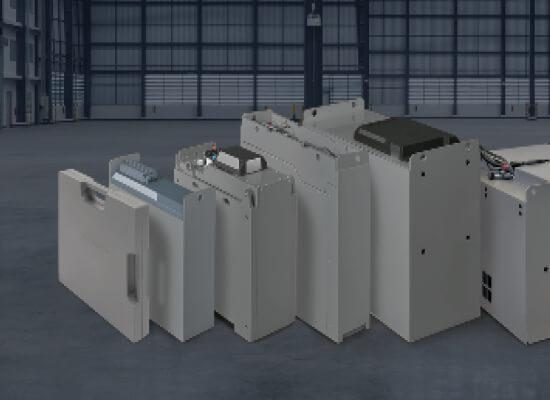 Lithium-Ion Battery Solutions
Lower Lifetime Cost
Lithium-ion batteries feature a lower cost of ownership than lead-acid batteries by eliminating excessive maintenance costs
Increase Productivity
Lithium-ion batteries can be charged to full capacity in a fraction of the time it takes to charge a lead-acid battery. Opportunity charging that can be interrupted at any time, prevents downtimes and ensures 24/7 truck usage.
Increase efficiency
The battery, vehicle and charger are all synchronized which allows for fast and efficient energy usage and charging capability.
| Model | Basic Capacity (lbs) | Maximum Fork Height | Length To Fork Face | Chassis Width (in) | Chassis Height (in) | Gross Weight (lbs) |
| --- | --- | --- | --- | --- | --- | --- |
| PW23 | 4,500 | 4.8 | 19.1 | 28.3 | 29.5/48.7 | 926 |
| PW23 | 4,500 | 4.8 | 22.8 | 28.7 | 29.5/48.7 | 941 |
| PW30 | 6,000 | 4.8 | 24.0 | 28.7 | 29.5/48.7 | 1,193 |