6,000-8,000. Capacity Center Control Riders
Model: PMCR27M-36M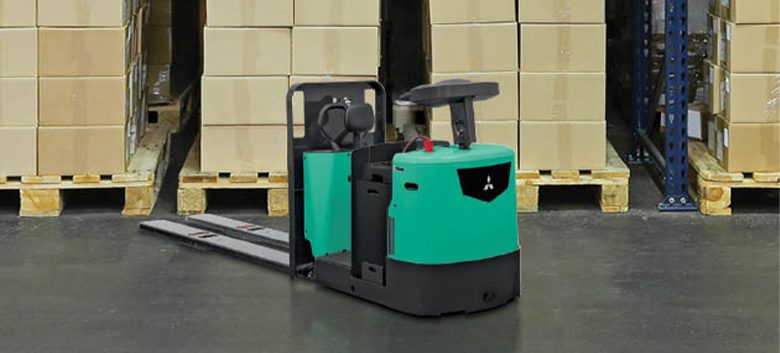 With a heavy-duty frame and powder coat finish, the PMCR27M-36M center control rider series is built to last.
Productivity
Innovative AC technology and regenerative braking allow for the reservation of energy during operation, providing longer run times by using less energy per cycle.
The drive wheel and swivel caster wheels are independent from the rear load frame to allow for smoother chassis movement, increased load stability and effortless control for increased throughput.
With a 5.2 horsepower motor, these trucks offer faster speeds, higher torque and more efficient use of power with no energy loss for optimized performance.
Maneuverability
A compact chassis provides excellent turning radius, making it easy for operators to maneuver the truck.
The 190-degree steering arc capability and compact chassis length allows operators of all skill levels to easily and precisely maneuver the truck, especially in smaller areas of a warehouse.
Intuitive
Infinitely variable travel speeds and easy lifting and lowering commands allow for greater control.
Rotary-thumb travel speed controls that can be utilized from either side for operator flexibility.
The Auto-lift feature provides a full 6 inches of ground clearance to help reduce pallet and load carry component damage. For an operator, this is one less thing to have to think about.
Easy entry and exit into and out of the operator compartment.
Awareness
Excellent all-around visibility in all directions.
With a T-style adjustable steer head, padded operator compartment and a large cushioned platform, these center control riders help to minimize fatigue for the operator.
Spacious operator compartment allows for change of positions/stances for increased comfort.
Standard Multifunction Digital Indicator (MDI) keeps operator informed of truck status at all times with a quick glance.
Optional multi-functional LCD display provides even greater operator awareness and customized performance settings.
Optional travel alarm helps to increase pedestrian awareness of the truck's presence.
Total Cost of Ownership
Brushless AC motors and externally mounted, rotating sensing encoders simplify maintenance and lessen the costs associated with it.
IP65-rated components and an enclosed frame design help to prevent damage to your investment whether it be from dust, moisture, heat or debris.
Thermal protection may slow or shut down the system in case of high temperatures.
Our center control riders are equipped with some of the largest, most rigid and tough forks in the industry with its "push-type" assembly design and ¼-inch plate steel.
Product Brochure - English
PMCR27M-26M Electric Center Control Rider
Product Brochure - Spanish
PMCR27M-26M Electric Center Control Rider
| Model | Basic Capacity (lbs) | Maximum Fork Height | Length To Fork Face | Chassis Width (in) | Chassis Height (in) | Gross Weight (lbs) |
| --- | --- | --- | --- | --- | --- | --- |
| PMCR27M | 6,000 | 9.25 | 56.9 | 35.1 | 55.7 | 1,895 |
| PMCR36M | 8,000 | 9.25 | 56.9 | 35.1 | 55.7 | 1,895 |