8,000 - 12,000 lb. Capacity Internal Combustion Pneumatic Tire Forklifts
Model: FG/FD40N-FG/FD55N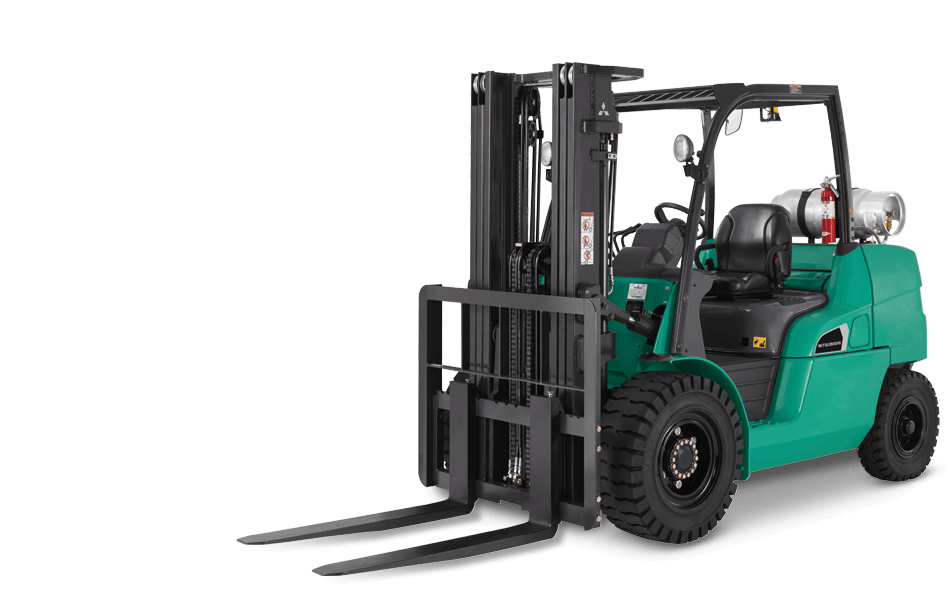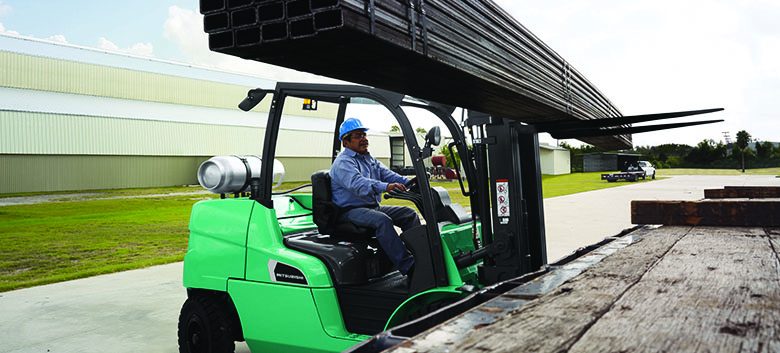 With capacities ranging from 8,000-12,000 lbs., this series of IC pneumatic tire forklift trucks is ideal for working in rugged, outdoor environments where surface conditions are often rough, wet and dusty. Built to accommodate a broad array of industries, these forklifts are designed to move heavy loads ranging from unprocessed lumber to concrete blocks and containers.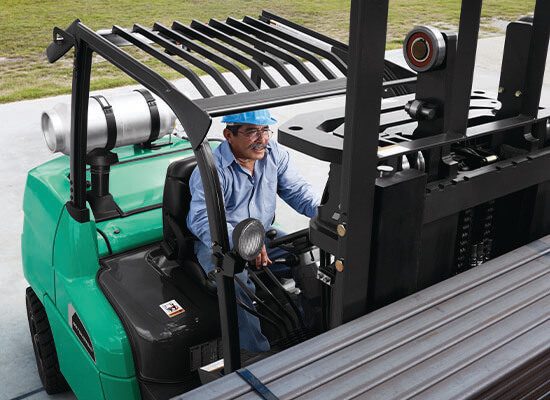 Productivity
GK45 4.5L EPA-Compliant Gas & LP Engine – This six-cylinder in-line engine is designed to work in the most demanding conditions, employing reliable and proven technology.

Mit D04EG-T Tier 4 Final Diesel Engine – This Mitsubishi diesel engine packs the power of many 6-cylinder equivalents in a fuel efficient, high output 4-cylinder package that effectively balances the power needed to get the job done at fuel consumption levels that could help lower total operational costs.

Maintenance -Free Emissions System – Meets stringent EPA Tier 4 Final emissions regulations through the use of the forklift truck's maintenance-free emissions system. Less maintenance means greater uptime over the long run.
Greater Torque – The transmission's torque converter is precisely matched to the internal combustion engine to provide high levels of torque and a smooth ride.
Enhanced LCD/LED Display – The forklift operator can monitor all critical systems via the LCD/LED display during operation to help reduce costs and the risk of excessive downtime.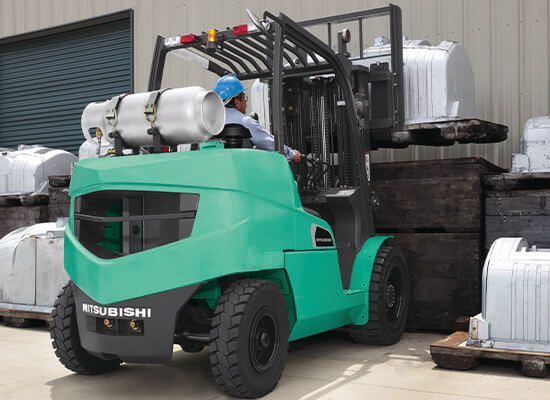 Durability
Engine Protection System – Monitor your forklift's engine health with the Engine Protection System. By continuously monitoring your truck's engine oil pressure, transmission fluid and coolant temperatures, the Engine Protection System will alert operators when certain engine repairs are needed.

Reinforced Steel Frame – Our steel frame gives you the durability you need.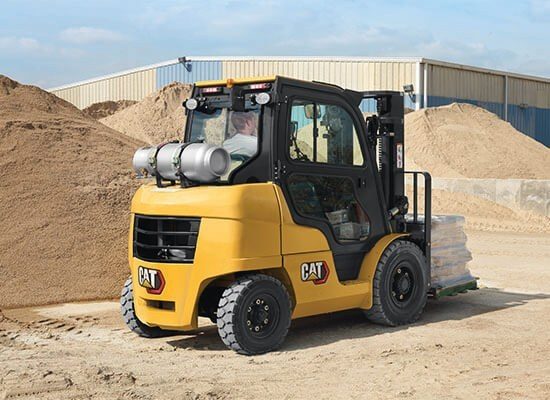 Serviceability
Easy Access For Service – Gaining access to a traditional engine hood can take several minutes, but Mitsubishi's design makes it quick and simple. A rear-hinged engine hood gives technicians quick access to the engine and other core components to ensure faster repairs and greater uptime.

500-Hour Service Intervals – Taking a forklift out of service for planned maintenance can cost you time. Mitsubishi is committed to keeping your operation up and running. That's why we designed this forklift with 500-hour service intervals.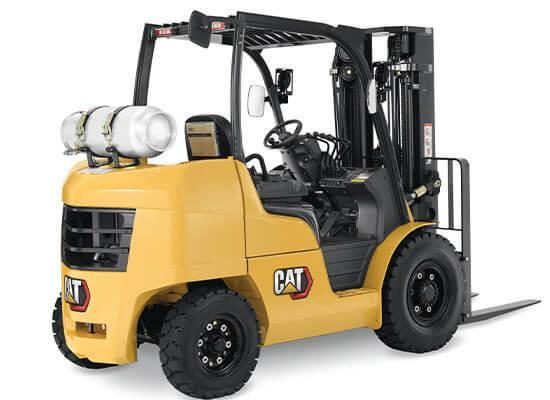 Awareness
Integrated Presence System – If an operator is not properly seated in the forklift, the Integrated Presence System locks-out powered hydraulic functions and travel.

Orange Seat Belt – Easily see if operators are properly wearing their seat belts with this bright orange anti-cinch seat belt.

LED Forward Work Lights – These bright LED work lights are included in your standard warranty and will not only help your operators see in dark areas, but also reduce your maintenance costs due to their long life.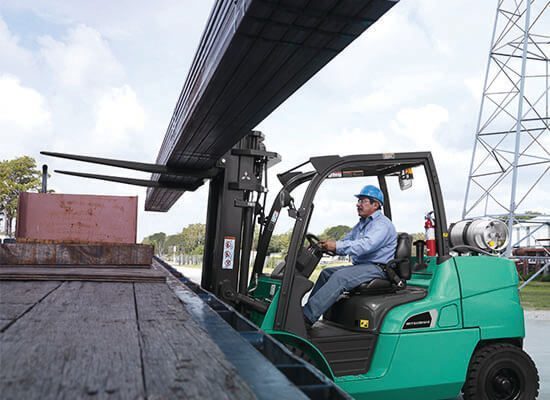 Operator Comfort
Easy Entry / Exit – Three solid points of contact - an elongated grab bar, low anti-slip step and steel hip restraint - allow your operators to enter and exit the truck with confidence.

Reduced Forklift Noise And Vibration – Many features have been added to reduce the noise and vibrations that operator's experience throughout the shift, including a fully-insulated engine hood, rubber mounted components and fully-enclosed wheel wells.

Improved Steering – The hydrostatic steering system is a standard feature on this forklift and provides smooth and easy steering.
| Model | Basic Capacity (lbs) | Maximum Fork Height | Length To Fork Face | Chassis Width (in) | Chassis Height (in) | Gross Weight (lbs) |
| --- | --- | --- | --- | --- | --- | --- |
| FG40N | 8,000 | 238 | 118 | 55.7 | 90.5 | 12,920 |
| FD40N | 8,000 | 238 | 118 | 55.7 | 90.5 | 13,050 |
| FG45N | 9,000 | 238 | 123 | 57.5 | 90.5 | 13,820 |
| FD45N | 9,000 | 238 | 123 | 57.5 | 90.5 | 13,960 |
| FG50CN | 10,000 | 238 | 125 | 57.5 | 90.5 | 14,970 |
| FD50CN | 10,000 | 238 | 125 | 57.5 | 90.5 | 15,100 |
| FG50N | 11,000 | 238 | 130 | 57.5 | 90.5 | 15,960 |
| FD50N | 11,000 | 238 | 130 | 57.5 | 90.5 | 16,090 |
| FG55N | 12,000 | 238 | 132 | 57.5 | 90.5 | 16,690 |
| FD55N | 12,000 | 238 | 132 | 57.5 | 90.5 | 16,840 |